CU Boulder Graduation is Celebrated in Style!
By : Barbara Stafford | 0 Comments | On : May 11, 2015 | Category : Blog
When CU Boulder awards a family member a Doctor of Audiology degree , this milestone needs to be recognized. Naturally food is called for to set the stage and an eclectic menu was had. Due to rain and then snow, yes SNOW!, Plan B kicked in and the party moved indoors and went off without a hitch. Here's what we enjoyed: Phyllo Brie Cups, Artichoke Boats, Smoked Salmon Bruschetta on Cucumbers, Bacon & Blue Cheese Dates, Grilled Beef Yakitori K-Bobs with Peaches, Grilled Shrimp, Kale Salad, Couscous, Monster Cookies and Truffnies, my favorite. Most of these recipes are coincidentally in Eclectic Entertaining. Congratulations Jon! (Notice the table is black and gold, CU colors, as are the m&m's in the Monster Cookies.)
Share This Post!
Subscribe to Recipes Blog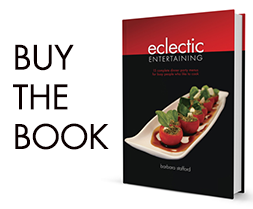 News and Events
Join me with fellow CAL (Colorado Authors League) authors tomorrow from 10-4:00...more

After a six month hail and rain-damage sabbatical from retail business, the...more