Colorado Mills Mall is Open Again!
By : Barbara Stafford | 0 Comments | On : November 24, 2017 | Category : Blog
After a six month hail and rain-damage sabbatical from retail business, the mall is up and running again! Both Eclectic Entertaining Cookbooks are signed and available at a shop that only features Colorado artisans and authors. Check out A Borgata soon! Thank you Colorado Authors' League for making this possible! (Fast pass – drive around back and enter through Dick's Sporting Goods and turn left. You will find it.)
Share This Post!
Subscribe to Recipes Blog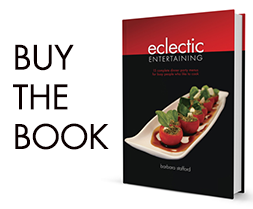 News and Events
Q – What is the difference between Parmesan Cheese and Pecorino Cheese?...more

Monster Cookies are fantastic year-round and always in season. I love to...more

Join me with fellow CAL (Colorado Authors League) authors tomorrow from 10-4:00...more