Taste of Highlands Ranch is a Success!
By : Barbara Stafford | 0 Comments | On : May 7, 2016 | Category : Blog
We attended the 21st Taste of Highlands Ranch and it was so much fun we will definitely put it on the calendar for next year! Besides the generous portions of local foods, beverages and live music, the silent auction was the best. Abloom put together a beautiful basket with an Eclectic Entertaining cookbook for the winner's next dinner party. This was ingenious. The winner received complete menus, a gift certificate for a centerpiece, 2 bottles of wine and a beautiful basket! I was pleased to see so many bids on this gift! I was also tickled to get carded and confirmed that I am over 21. Oh yeah!
Share This Post!
Subscribe to Recipes Blog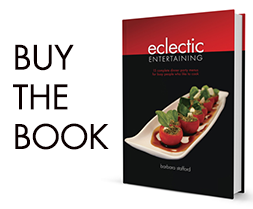 News and Events
What is the difference between "Stuffing" and "Dressing?" Answer: Stuffing is...more

Join me Saturday November 18 at Littleton's open-air mall, Aspen Grove, at...more

Just in time for Thanksgiving, here is an awesome baked brie from...more