We Went "Off the Page" Today, Literally!
By : Barbara Stafford | 0 Comments | On : October 18, 2015 | Category : Blog
Thank you, Librarian Stacy McKenzie, for interviewing me on your (syndicated throughout the state) television program "Off the Page." It was a very enjoyable and relaxing visit chatting about Eclectic Entertaining Cookbooks. The episode is expected to air in January of 2016 so stay tuned! It will be on my YouTube channel. A favorite from the book, Chocolate Orange Biscotti, was shared. Stacy and the camera crew seemed to enjoy them! Food is such a great way to make friends!
Share This Post!
Subscribe to Recipes Blog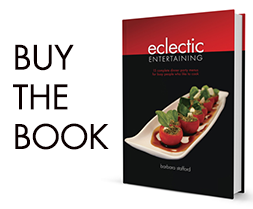 News and Events
What is the difference between "Stuffing" and "Dressing?" Answer: Stuffing is...more

Join me Saturday November 18 at Littleton's open-air mall, Aspen Grove, at...more

Just in time for Thanksgiving, here is an awesome baked brie from...more